I am working on a project that is made possible (in part) by the Queens Council on the Arts with public funds from the New York City Department of Cultural Affairs in partnership with the City Council. I am combining drawings of architectural details from Jackson Heights, Queens with excerpts from oral interviews with longtime residents. Here are a few preliminary drawings. Exhibition to come in early 2018.
****
In the studio, I am working on a large set of Consumerist Mandala reliefs. Here is a work in progress shot… these reliefs (which will eventually hang on the wall) are connected to my container ship series, where all the forms are cast from plastic packaging. Four related reliefs were recently show at the Islip Art Museum. (Each is 12×12 inches, plaster, paint, wood).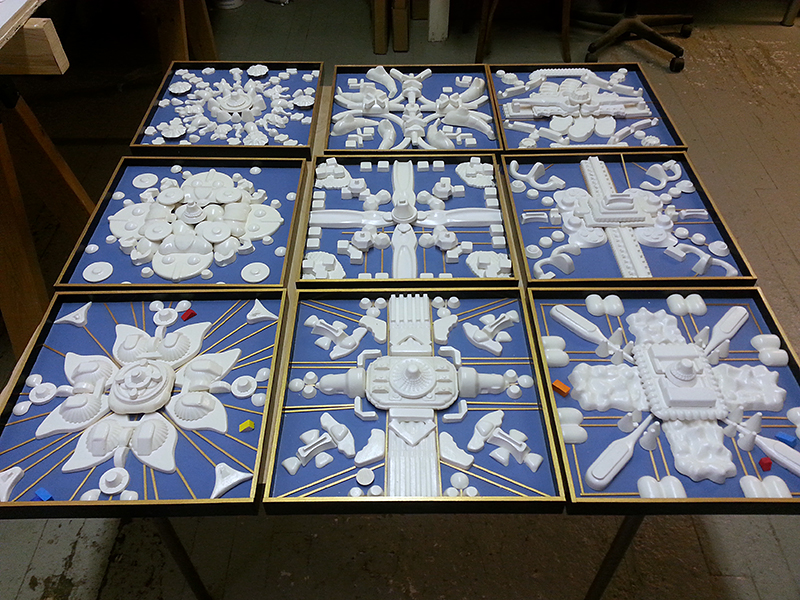 ****
I have been curating and organizing the new Jackson Heights Art Talk series which takes place monthly at E77 in Jackson Heights. (There are so many great artists in Jackson Heights but no venues to meet up and show work!) Our 7th talk is coming up this June 14th. Here is our FB page.
****
I will be teaching a kids sculpture workshop at Socrates Sculpture Park on July 8 called Creature Colony from 12-3. Come by! No reservations needed. It's drop in.
****
I am happy to have participated in "The Structure of Things" at the Islip Art Museum this winter/spring curated by the indefatigable Beth Giacummo. I showed a new large-scale sculpture called Uncontained Consumption as well as four Consumerist Mandalas.
This link contains images of the Uncontained Consumption right after I installed it in the gallery.
Here are some of the Consumerist Mandalas laid out on a table (pre-install).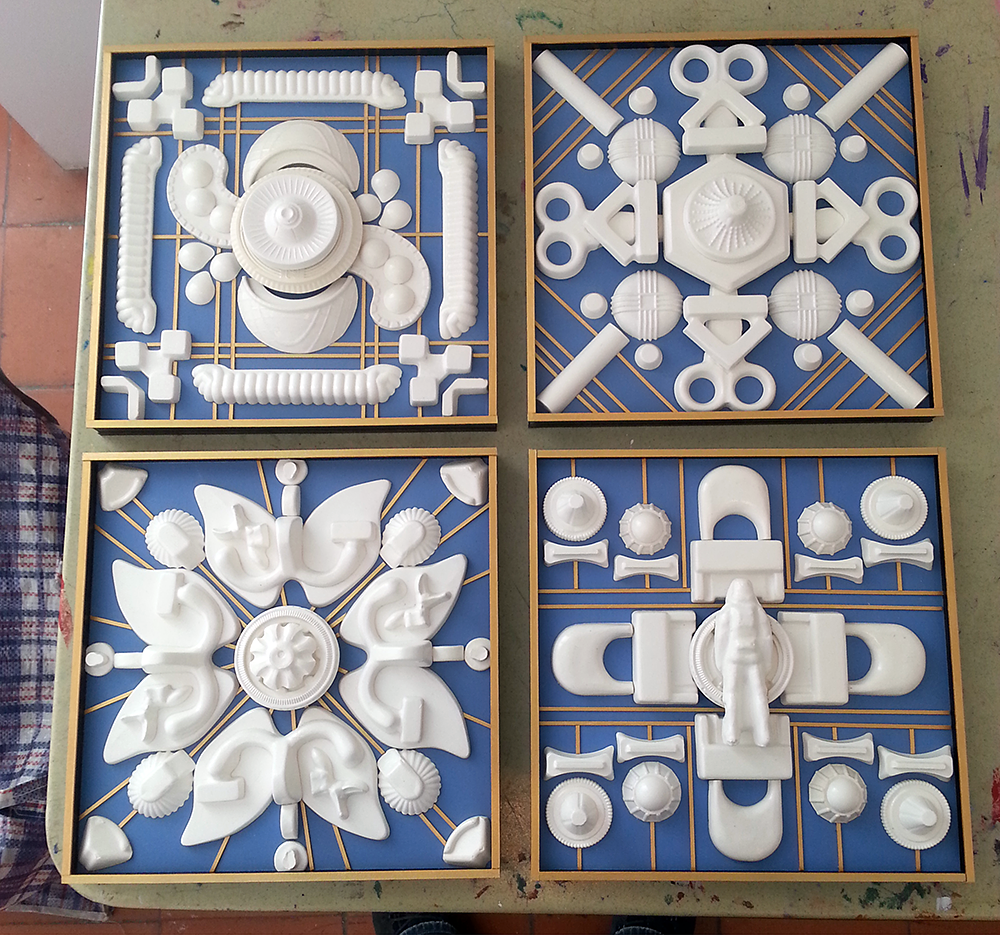 ****
I participated in "Post-Romance: Artists' Valentines" at the Renaissance Center in Erie, PA opening Feb 11, 2017.
****
I spoke as part of Open House New York on Saturday, October 15, at noon, at the MTA station I worked on. It's 111th street on the A line in Queens.
Here are some pictures taken by Kevin Noble. I worked with KC Fabrications in Gardiner, NY. The panels are acid-etched, and water-jet cut stainless steel about 2.5 ft x 4 ft. More details here.
****
I showed a new relief at the BOS Seeking Space exhibit from Sept 30 – Oct 16.
****
I showed a political Pin the Tail… poster that I created at Front Room Gallery as part of the Ballot Show. The exhibition opened October 14 and ran through October 23.
****
I had a wonderful two-week residency at Saltonstall art colony where I worked on a new series of drawings inspired by quilts and container ships. Images to come…
***
Tiles from my Glimpses from A Queens Commute series are available through Auxiliary Projects in Brooklyn.
Nauset Press has some of my favorite early drawings available as digitally-printed archival prints.
–updated 6.8.17