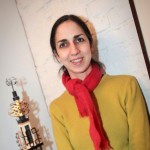 Linda Ganjian is a NY-based artist who works in a variety of materials, from clay to cement to paper. Her main pursuit has involved making large "table-top" sculptures comprised of hundreds of miniature forms, that are a reinterpretation of Middle Eastern and American craft traditions (carpets, quilts, calligraphy). Much of her work presents memories and impressions of the urban landscape, the specific history of a site, or a more personal narrative.
She received her B.A. from Bard College in 1992 and her MFA from Hunter College CUNY in 1998.
Her work has been exhibited in New York and abroad. Some exhibition highlights include: Depo, Istanbul (2015); Auxiliary Projects (2013); Artspace, New Haven, CT (un(spoken) 2009); National Academy of Design (Invitational 2008); Socrates Sculpture Park (EAF 2007); Queens Museum (Queens International 2006); Storefront for Art and Architecture (Portable 3-person show 2006); eyewash@Boreas Gallery (Urban Designs solo show 2006); the Brooklyn Museum of Art (Open House: Working in Brooklyn 2004); and Stedelijk museum de Lakenhal in Leiden, Holland (2001).
She has received grants from: the Queens Council on the Arts (2011); Pollack-Krasner Foundation (2005); Artslink (2001); the ARPA foundation (2001); the Gunk Foundation (February 2002) for the No Live Girls project, and fellowships to: MacDowell Colony (2006); Hall Farm Center (2005); Millay Colony (2004); and Vermont Studio Center (2015).
Her work has been reviewed in The New York Times and Art in America, among other publications.
She completed a public art commission for the NYC School Construction Authority in 2014 through the NYC Percent for Art program and is currently working on one for the NYC MTA.
To view a PDF version of her complete resume, click here.